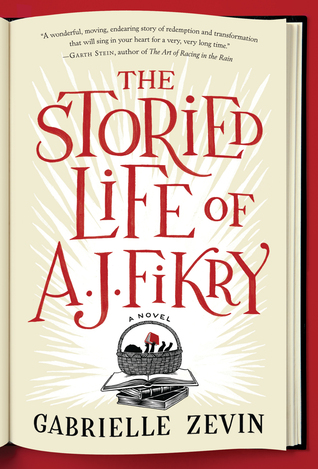 Before the review: Happy Birthday to my little sister!
The Storied Life of A.J. Fikry is one of the rare books where I'd give it two different ratings: for myself and my personal tastes in books, I'd waver between 3 and 3.5 out of 5 stars; but for overall writing and for how much I think others will like it, I'd give it 4 out of 5 stars. I know that might not make complete sense... let's start at the beginning:
I downloaded this book from Edelweiss long, long ago because the synopsis mentioned that the main character was a bookstore proprietor on a very small island. It is a dream of mine to someday run a small bookstore in a small town. Maybe in retirement. The hubby and I love love love to read and probably own enough books already to start up the store! Ha ha ha So that's why I chose to read the book. However, time slipped away and years passed before I read it. The year before I read it, it was chosen as my library's "Community Read" book- the book that the library encouraged all adults in the county to read and discuss. These two things together pushed my hopes sky high for a great read, and unfortunately the book fell just a little flat.
This is the story of A.J. Fikry, a bookstore owner on Alice Island, off the coast of Massachusetts. The island is very small and only reachable by ferry, and that ferry often gets shut down in the winter. When he is first visited by Amelia, a publishing firm rep, he is the epitome of curmudgeonly. He's a surly middle-aged widower hermit, just plodding through his days until retirement. Then one day someone steals something from him, and another someone leaves something for him. You'll have to read the book to find out if the two events are truly related!
The plot was pretty good. My quibble with it: I called it. I prefer to be swept up in a book and surprised. I'm not even that good at trying to figure out plot points before the reveals! So when I'm able to see what's coming, I subtract "points" from the book. On the positive side, though, the plot is definitely plausible and is well-executed. I will agree with the front cover blurb by Garth Stein: the book is moving.
For me, the characters were what made this book most enjoyable. It's not every day that you see much character growth in adult fiction; that's usually left to the YA shelves. But here in The Storied Life of A.J. Fikry, we get honest-to-goodness believable and heart warming character growth in the eponymous character. He starts as this grumpy man, aged emotionally well beyond his calendar years and blooms into this somewhat short-spoken but ultimately caring man through his relationships with the women in his life. This short-ish novel has a short character list, but they're all worth their weight in gold. We get to know A.J. the best, but I also really enjoyed "meeting" his friend, police chief Lambiase, and his sister-in-law Ismay. Then there are two other women who he lets get close, but it would spoil a plot point to reveal anything about them!
Gabrielle Zevin also does a neat bit of foreshadowing in the formatting of the book: the chapters are separated by short reviews (written by A.J.) of short stories. They're written with a clearly personal touch, and you do find out at the end of the book who they were written for, and it will probably make your heart melt a little. I do like when books have a unique feature to them.
I plan to recommend this book to a few relatives, so you can know that it's a good book- just wasn't really my personal cup of tea. Very well written, and I wouldn't hesitate to try another book by Zevin in the future.
*I received my copy of The Storied Life of A.J. Fikry from the publisher in exchange for my fair and honest review. Thank you!