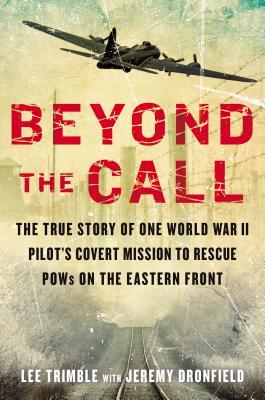 I originally brought this home from the library for the hubby to read. He loves WWII histories. I'm so glad that I decided to read it too! I'm a huge fan of what I call "personal interest" stories, and that is what this totally is. It's the story of one man and his very unique assignment at the end of WWII. After serving out a full set of 35 missions as a combat pilot, Lee Trimble's father is given a choice: go home for a few weeks, and probably be called back up for another tour of duty, or go on a special assignment that will keep him out of direct combat through the end of the war. With a brand new baby daughter awaiting him at home, Captain Trimble makes the choice to take the special assignment.
It is so awesome that the author, Lee Trimble, decided to push his father a little bit harder than usual to get his war stories out of him. His father had kept silent for decades on his final assignment. As one of only handful (literally) of men to even know the story, there was a real risk of it going to the grave with him. His special assignment: to officially act as a scavenger pilot, going into USSR-controlled Poland to collect downed US plans to bring to Allied bases for repair and to unofficially bring recently released American POWs back to those same bases. I didn't know this, but so many POW and concentration camps were being liberated so quickly that many prisoners got kind of lost in the shuffle and ended up wandering the Polish and French countryside, penniless and weak. I don't want to spoil the stories in this book, but I will tell you that you should be prepared to be utterly amazed at what Robert Trimble accomplishes. And just think: this guy was trained to be a combat pilot, not a political operative!
Beyond the Call is very readable. The hubby read it in only a few days, and he doesn't devote quite so much of his time to reading as I do. You definitely don't need a deep understanding of WWII to appreciate the actions of Robert Trimble. I definitely recommend this book!
*I checked out a copy of Beyond the Call from my local library.