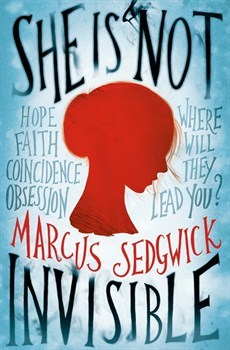 (This cover! I love love love this cover!)
WOW. I loved this book. So much. There's so much to unpack: differently-abled main character, travel, mystery, psychology of coincidences, family, and courage. And even though that probably sounds like a LOT to fit into a book, it's so well-written that you never feel overwhelmed by plot points.

She is Not Invisible is the story of Laureth, a blind British teen who embarks on a journey to America to search for her father. He's only been away from a home for a few days, supposedly to Switzerland, but Laureth is in charge of checking his fan email account and finds an unusual email: someone is trying to contact her author father to return his notebook... found in NYC. Upon reflection, Laureth remembers that she hasn't actually heard from her father in a couple days. And he's not answering his cell phone. And he's supposed to be in Switzerland, but his notebook is in NYC. She decides that something is definitely not right, and she takes off to try to find him. Laureth is blind, however, so she ends up taking her 7-yr-old brother along for the trip, to help her out.

I would be interested to find out what kind of research Marcus Sedgwick did to write such an authentic-sounding blind girl, himself being a sighted man. I found this aspect of the story fascinating. I loved the little things that Laureth thinks about and plans for, just to not stand out as blind. For instance, her little brother and she have worked out a way to walk holding hands so that they're side-by-side and she looks like the responsible older sibling, when in fact he's "leading" her through subtle hand twists or squeezes.

While the sensible part of me literally cringed at Laureth taking her mom's credit card to get plane tickets out of country for herself and her brother, another little rebel part of me wished I would have the courage to follow my intuitions so bravely. Laureth just knows that there's something wrong with her dad, and she follows that instinct all the way to America. You go, girl! But maybe not starting with "stealing" your mom's credit card?

Mystery! What's up with her dad? (Nothing more to say without spoilers.)

There's also so many "fun facts" in this book! I hope they're all true; I quoted one yesterday. Laureth's dad is an author, and he's working on a book about the psychology of coincidences, and he tells Laureth about his research. I found it all incredibly fascinating! Don't worry; you don't need to be super smart to keep up: the "fun facts" are sprinkled throughout the book, and an understanding of coincidences and what not is not necessarily to follow the story. But know that there's a good chance you'll come away a little smarter!

And finally, family: I do love a good YA with good family relationships. Laureth and her brother are really close, in a good way. In every action Laureth takes, you can see her considering the impact on her brother. She's always looking out for him, and you can tell that he's always looking out for her too. They both have good relationships with their parents, too. (Duh. Otherwise why would Laureth go all the way to NYC to find her dad?)

I loved this book, start to finish. It ended way too soon for my taste! I'm already thinking of trying more Marcus Sedgwick in the near future. Anyone have a fave to recommend? Or a readalike, but with a different author?

*I received an ARC of She is Not Invisible from the publisher in exchange for my fair and honest review. Thank you!