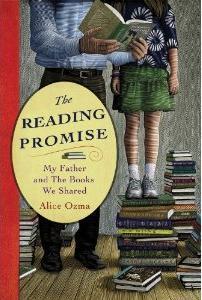 The Reading Promise is the story of one dad and one daughter, committed to reading aloud together for at least 15 minutes every day, no matter what. A lot of days this task is easily met; other days, especially once Alice enters high school, the reading promise becomes a challenge that dad and daughter eagerly rise to.
While I felt like the book had a slightly slow start, I'm so very glad I stuck with it. The Reading Promise is laid out in a series of vignettes; little windows into the Brozinas' lives. The reader gets to see Alice grow up, and face life's turbulences. By the middle of the book I was starting to see quite a bit of myself in Alice.
I may be slightly biased in giving this book 4 of 5 stars. My mom and I read aloud together well into my high school years. We never made a formal pact, and it wasn't every single night, but it was 4-5 times a week. And I so treasure those memories. Curling up in bed in the evening and ending the day reading aloud together. The soft cadence of our voices. If I ever had kids, I'd definitely do the same thing with them.
The Reading Promise is a sweet, unique, relatively short memoir, and I enjoyed it.
*I checked out my copy of The Reading Promise from my local library.