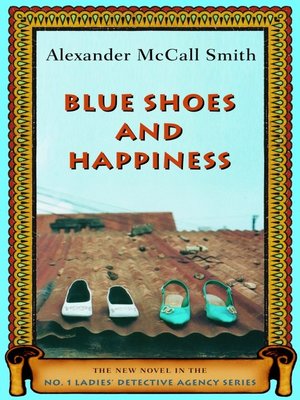 This will be a short review, because this book didn't really make a huge impression on me. I definitely enjoyed it, but nothing really stood out to me.
It kind of felt like there were less mysteries for Mma Ramotswe to solve in this one, and more interactions between characters. There was also a lot more of Mma Makutsi, and not good things. When I started this series, I felt like Mma Ramotswe was more stern and traditional and likely to judge others; now I feel like she's the more open and loving and accepting one and that Mma Makutsi is the judgmental shrewd one. She also comes across pretty shallow in this book.
The main mysteries focus around a doctor that may be scamming his patients, and a local newspaper advice columnist who may be too abrupt for her own good. Neither mystery was overly exciting.
Then there is are the titular shoes. Do you care to wager a guess as to which lady detective buys the aforementioned blue shoes? ;) There is a sweet short scene near the very end of the book where a comparison is drawn between the happiness found in new blue shoes and the happiness found in life in general.
The same narrator continues the story in this audiobook, and she continues to do a good job. Not fantastic- the pace feels a little slow to me- but definitely not bad. She has an accent that really takes the reader to Botswana, but not too thick an accent that I have to try overly hard to understand her.
While not as good as In the Company of Cheerful Ladies, this one definitely wasn't bad. And if you're already into the series, there's no reason not to continue!
*I checked out my copy of Blue Shoes and Happiness from my local library.