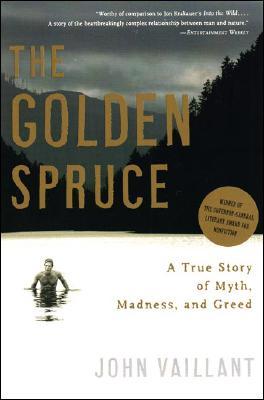 This was a really unique and interesting nonfiction, recommended to me by my aunt! The blurb on the book compared it to a Krakauer book, and I'd mostly agree with that. It certainly brought the temperate rainforests of British Columbia alive for me, but John Vaillant also maintains an individual writing style.
The Golden Spruce
is not only the story of a singular tree; it's also the story of the Haida people and the history of the logging industry in the Pacific Northwest, all intertwined. The old growth trees of the Pacific Northwest are
really, really
old, so the book begins
way, way
back, when people were just starting to populate the area. It was very interesting to read about the myths and legends traditionally associated with the golden spruce. I would've appreciated a pronunciation guide, or phonetic spellings of all the words associated with the Haida people... Vaillant provides phonetic spellings for a few of the words, but not many, and they all include a LOT of vowels with not quite enough consonants. For example, the name of the golden spruce is Kiidk'yaas.
There's also a lot of background on the logging industry in British Columbia. It takes a unique person to work in that field: all the loggers interviewed for the book said that they got into the industry because they loved being out in the woods. Yet, their job is to cut down those woods.
Overarchingly,
The Golden Spruce
is the story of Grant Hadwin. He's a logger who starts to see how logging will end eventually- in the total decimation of Canada's beautiful old-growth forests. I kind of got the feeling from the book that he might have been a little crazy, too. He decides to cut down the golden spruce in protest, to show how valuable a tree can be. I say that he's a little crazy, because in order to do this he had to kayak across dangerous water in Canada in February. I don't know that I'd even want to kayak in Canada in August- too cold!
At times the book felt slightly disjointed, but it did all come together at the end. I found it all pretty interesting, and remained engaged the whole time. There are black and white pictures in the middle of the book, so I had to take to the internet to find a color picture of the golden spruce. Here it is, taken from symphontreemusic.com:
*I checked out my copy of The Golden Spruce from my local library.