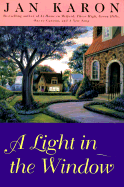 Continuing on my re-read of the Mitford books, this is my re-read review of the second book in the series, A Light in the Window. These books are so popular and have been around so long that Goodreads doesn't bother to summarize it. So I will! These books have been around for long enough; I'm going to do a quick chapter-by-chapter review. Spoilers abound, but I feel ok about that. These aren't the most suspenseful books and you should've already read them!
Close Encounters (1): Father Tim is back from Ireland and Edith Mallory (a wealthy and recently widowed parishioner) has her sights set on courting him. Work has begun on Hope House; the foreman is Buck Leeper.
Lost (2): Father Tim is unable to touch base with Cynthia... uh oh. Sadie finds out that Olivia is her (illegitimate) great-niece.
Found (3): Cynthia is living in NY and it's not helping Father Tim's mood. But she does come back for a weekend and they eat pb-and-banana sandwiches and make up. Miss Sadie gives all of her hats to Olivia.
Banana Sandwiches (4): Father Tim & Cynthia write letters to each other. Sweet. Then Father Tim calls and a man answers. Bad.
The Blizzard (5): There's a blizzard.
Water Like a Stone (6): Father Tim misses a Sunday service for the first time he can remember, due to the blizzard. Father Tim & Cynthia make up.
More Than Music (7): The "bookends" write sweet letters to each other.
Keeping the Light (8): Father Tim has a prescient dream about an accident at the Hope House construction site. Hoppy & Olivia are engaged. Miss Sadie is going to host the wedding reception in her ballroom. Dooley can sing! Father Tim lets Fancy cut his hair.
Going On (9): Edith Mallory is still trying to get in Father Tim's pants. Uncle Billy & Miss Rose's place is declared a Town Museum. Father Tim flies to NYC.
Cousins (10): Father Tim flies home to Mitford to spend the weekend with Cynthia. Cynthia eats Miss Pattie's drumstick. Father Tim gives Cynthia his mother's brooch. Father Tim contemplates marriage...
Meg (11): Cousin Meg moves into the guest room.
Faith Not Feeling (12): Dooley gets in trouble at school. The Grill's rent is hiked by Edith Mallory. Cousin Meg is still in the guest room. The brooch is missing.
A Rock and a Hard Place (13): Buck Leeper warns Father Tim to keep Dooley away from the construction site.
Home Again (14): Cynthia's home! But they're on the outs again; this time because Father Tim thanked her for roses she didn't send and she hung up on him. It's pouring rain and they can't find the key to her house. Dooley gets suspended from school. Father Tim & Cynthia get the flu.
Lady Spring (15): Dooley spends his suspension nursing Father Tim & Cynthia and gets sick himself.
Down the Hatch (16): The guys gather to help pack up The Grill. Horribly depressing chapter.
Broken Rules (17): Father Tim has discovered that The Grill's floor joists are rotten. The Grill is saved! And Percy and Velma take a vacay to Hawaii while The Grill is closed for repairs. Tommy is gravely injured at the Hope House build site. Dooley is shaken. Father Tim tells Dooley he'll be going away to school next year. Father Tim visits Buck Leeper and Buck Leeper explodes in a violent but yet healing rage.
The Ceiling (18): Miss Sadie tells the story of the ballroom ceiling.
Hasta La Vista (19): Puny & Father Tim see what Cousin Meg has been up to in the guest room. Cousin Meg leaves.
June (20): Puny and Joe Joe get married. Tommy comes home from the hospital. Dooley starts his tutoring. Cynthia & Dooley officially join the church. Father Tim & Dooley visit schools. Olivia & Hoppy get married. Roberto (Leonardo's grandson) comes to visit Miss Sadie.
Knowing (21): Dooley picks a school. Captain Willard Porter's statue is unveiled at a festival; Father Tim pushes a peanut up Main Street with his nose, along with all the other clergymen of Mitford. Father Tim proposes to Cynthia and she says yes!