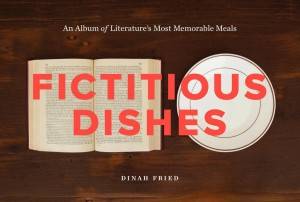 What a fun book! The author took passages from over 50 much-loved, familiar, and often classic pieces of literature and re-created the memorable meals from them. I had such a good time flipping through and looking at all the pictures.
(Heidi by Johanna Spyri; cheese toast)
Fictitious Dishes opens with an introduction by the author in which she explains how this project came to be, and how she went about re-creating the settings. It's not an overly long introduction, and I love getting the "inside scoop" on books!
(The Great Gatsby by F. Scott Fitzgerald; fancy hors d'oeuvres)
Each book/photo pairing is set up the same in Fictitious Dishes. On the left page you have the book title, author, and excerpt and on the right side you have the photo of the place setting and meal. A bonus (I love bonuses!) is that you also get fun facts relating to the book/author/food! For instance, on The Secret Garden page you learn that the author was a Christian Scientist, that the potato was the first vegetable grown in space, and that a hen can lay as many as 335 eggs per year-one egg every 26 hours.
(A Confederacy of Dunces by John Kennedy Toole; hot dog)
I was so excited to see so many of my personal favorites featured in this book, such as Anne of Green Gables by L.M. Montgomery and East of Eden by John Steinbeck and Gone With the Wind by Margaret Mitchell and many more! (If you're curious, the featured "meal" for Anne of Green Gables is the currant wine scene... You'll need to pick up a copy of the book to see the picture!) I give this book a double thumbs up and recommend it to all my bibliophile friends out there.