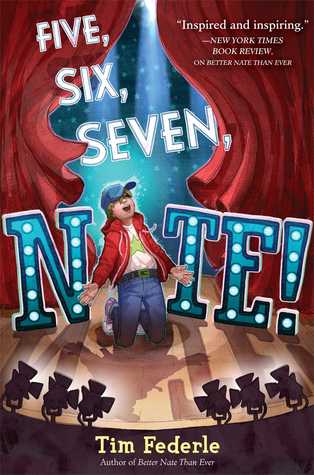 I loved loved loved about 99% of this book! I listened to it in my car on the way to & from work, and there were many literal laugh-out-loud moments, which I'm sure makes other people in rush hour wonder about my sanity.
At the end of Better Nate Than Ever (yup: spoilers ahead for the first book), Nate has secured a spot in his first Broadway musical: E.T.: The Musical. It's a daring first production for a young director, who has only "directed" video games in the past. Most of the cast members are children like Nate, but a lot of them have previous show experience.
Things I loved about Five, Six, Seven, Nate!: I loved how Nate is so self-confident so much of the time. He has a great sense of self. He's aware that he's not your typical thirteen-year-old boy. (He can recite cast lists from many Broadway shows, and has the Wicked sound track memorized.) But he never tries to change to please others. He's got his best friend Libby, and is ok with not being a football star. Nothing gets this kid down (except maybe when he misses lunch one day)!
I also absolutely loved the dialogue in the book. Tim Federle is a master at realistic and comedic dialogue! I could write a whole post on great, funny quotes from the book. But instead I'm going to tell you to go read it yourself. :) As I mentioned, I listened to it in my car and there were quite a few times when I had to sit in my car at my destination to reach the end of the chapter. I couldn't put it down!
And finally, I loved the family and friends relationships. They're so real. The book is 100% from Nate's point of view, so we get this really simple, innocent (naive?) view of relationships. From his humble point of view, he worries about his dad being disappointed in him because he's not a sport star like his brother. He knows that Libby's mom is sick and he worries about them. He recognizes the effort that his aunt is making to make him feel at home in her apartment in NYC. (He's staying with her while working on the musical.) There's this eternal optimism in Nate's life, that if he just perseveres, everyone will eventually give him credit.
That little 1% of the book that I didn't care for? The ending. I won't give any spoilers, but I think it could have ended about 3 chapters sooner and been just fine. As it is, it felt like the book reached it's pinnacle... and then kept going a little. So it felt a little forced. But it wasn't terrible terrible. Just a little anticlimactic.
A note on the narration: FANTASTIC! (<-- imagine that word sung like a true Broadway star would) Tim Federle himself does the narration, and he does it so well. It's more a production than a narration. I highly highly highly recommend this as an audiobook.
*I checked out my copy of Five, Six, Seven, Nate! from my local library.