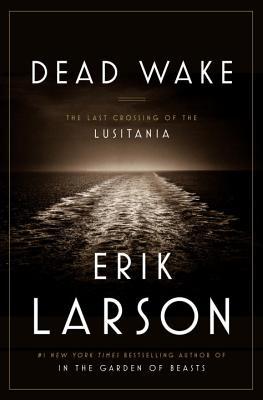 Narrative nonfiction! Oh, how I love thee!
Erik Larson has done it again with his latest book. Pure excellence. To emphasize: I'm not usually into books about WWII and I don't do boats and I couldn't put this one down!
Dead Wake is the story of last voyage the Lusitania made from NYC to England. The European part of WWII was in full swing, but the boat was filled to the gills with passengers (including lots of women and children), who were crazily unconcerned about any potential danger. This is nonfiction, so it's not a spoiler that that ship sinks, with major loss of life.
Larson tells the story from multiple points of view; from the captain's, a few different passengers', and even the submarine captain who torpedoed the Lusitania! I loved this. I'm all about some human interest in my nonfiction. (The hubby read this too, and he actually didn't care for getting "bogged down" (his opinion) in all the extra background. I disagree. But to each their own!)
In between all of the development around the various "characters," Larson also gives plenty of information about the greater world and war in order to provide point of reference. He weaves this in very skillfully, so there aren't any lengthy dry parts.
I highly recommend! Even if, like me, you're not usually into WWII nonfiction. This isn't your mother's history text!
*I received my copy of Dead Wake from the publisher, via bloggingforbooks.com. Thank you!