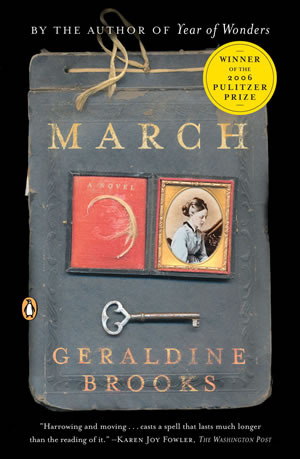 March is a parallel story to Little Women by Louisa May Alcott, but told from Mr. March's point of view. It tells his experiences during the year that he spent as a chaplain and educator in the Union forces during the Civil War.
While the story itself may have been somewhat interesting, it was lost in the stiff, stilted language. I consider myself a voracious reader, and I found it difficult to get through this book. It's been years (decades, maybe, even) since I read Little Women, but I don't recall it being so formally written. Then again, Little Women is often cataloged YA, and March was cataloged Adult. I suppose the language is kind of appropriate for the historic period, but it made for difficult reading for this contemporary gal.
Mr. March spends a good deal of time in abolitionary work, and in educating newly freed slaves during the war. This is good, important work... and Mr. March knows it. He comes across pretty self-righteous.
This will be a short review... unfortunately, I just didn't care for this book. I was introduced to it through the summer AudioSync program; it was the companion listen for Little Women. Sadly, the download failed and I was only able to listen to about two chapters before having to switch over to the print edition. Oh well. This book won the Pulitzer Prize in 2006. So I actually feel a little bad about myself for not being able to get into it. Maybe my literary taste runs more toward biblioMcDonald's than bibliosteakhouse.
*I checked out my copy of March from my local library.