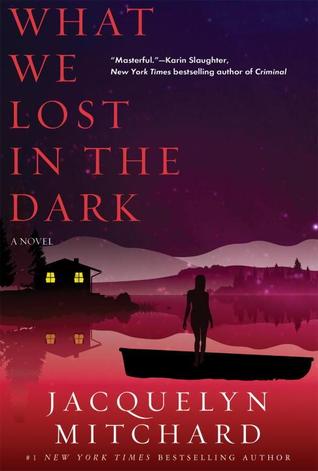 Warning! This is the sequel to
What We Saw at Night
. If you haven't read that yet, you can check out my review of that book first
HERE
.
What We Lost in the Dark is darker even than What We Saw at Night! Not only because the main characters are living with XP (xeroderma pigmentosa, an inability to be in sunlight), but also in mood and setting.
I wouldn't hesitate to recommend this duology to teens. They've got so many cool, unique features to them! First, there's the fact that everything takes place at night due to the main characters' condition. What teen wouldn't want to have free reign of their town all night long, largely unsupervised? Then the teens go and do cool extreme sports. In What We Saw at Night they train in and participate in parkour; in What We Lost in the Dark they try out extreme free diving. (And I mean extreme: they go free diving in Lake Superior in December. At night. No way would I be up for that!)
This book opens a few weeks after Juliet's death. Allie and Rob are, of course, grieving her loss. Allie is acting out; Rob is retreating within himself. They're still dating. Ordinarily, I'd be a little prude-ish about how much time the teens are spending together unsupervised, but by this book they're both only weeks from being 18, and Allie has begun college. Teens without XP would be moving out to go to college, unsupervised, at this point anyway. But still, there's heavy allusion to some extracurricular bedroom activities occasionally (no details), so recommend to younger teens with caution.
At one point while reading What We Lost in the Dark I turned to hubby and said, "this book is so freaking compelling and interesting and page-turnerish... and yet it's all because of a series of very bad decision making by a teen!" (Yes, I make up words in excitement when talking books. Hubby is quite understanding of this.) Usually I hate books where the whole plot is built upon a teen (or teens) making bad decisions. For whatever reason, I loved it in this book. I couldn't put it down! Maybe because I knew that there was a "safety net" of parents who cared just out of view in the wings? (Side note: Allie's mom, Jackie, might just be my fave character in the book. She's everything I hope to be in a mom.)
So Allie is unable to let go of the mysterious phone messages that she received from "Juliet" after she had disappeared. She's sent those on to an FBI contact. She's also determined to keep investigating Garrett Tabor on her own. (Bad decision #1....) And because Allie's quite a determined little dynamo (she's a redhead), she's convinced Rob to help her as well. I won't give away any spoilers, but I will tell you that it gets pretty intensely scary pretty quickly. Allie is already feeling like Garrett is out to get her; then he catches her trying to investigate him further. I'd be a nervous wreck! But Allie? She's still working a part-time internship and trying out free diving and working her own independent investigation. The action never lets up. This is a book I'd recommend maybe carving out a little time for, especially toward the end: you'll need to know what happens next!
For some reason, I was under the impression that this was a trilogy, so I was a bit surprised at how clear the ending was. But then I did a little research, and it turns out this is only a duology. I'll miss Allie and her friends in Iron Cove! But on the flip side, you can also know that this isn't another YA trilogy. I highly recommend this duology!
*I received an advanced copy of What We Lost in the Dark from the publisher in exchange for my fair and honest review. Thank you!