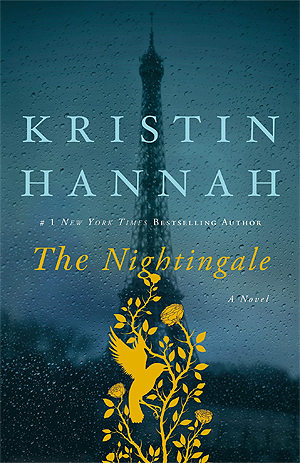 OHMYGOODNESS Y'ALL. THIS BOOK. It's hard for me to even think where to begin describing the awesomeness of this book! It was recommended to me by a family member, last year, when I was working on the 2015 PopSugar Reading Challenge and needed a recommendation of a book that might make me cry. I didn't actually shed any tears during this one, but came very, very close. (In fact, I've only ever actually cried during three books: The Fault in Our Stars by John Green, Wonder by R.J. Palacio, and Come Rain or Come Shine by Jan Karon. It takes a lot for me to actually physically cry at a book.)
The Nightingale is the dual story of two sisters and their actions during WWII in France. There's Vianne, who is married and a mother of a young daughter, and Isabelle, who is just coming of age. The girls' mother passed away when they were quite young, and their father is a bit distant. Nowadays, we'd readily recognize that he suffers PTSD from his time serving in WWI, but back then they didn't have the terminology for his suffering.
The blurb on the back of the book says that this is "a heartbreakingly beautiful novel that celebrates the resilience of the human spirit and the durability of women." So true. This is a story that I hadn't experienced before; the story of French women in Nazi-occupied France during WWII. My goodness, what a horrible time they had of it! I had read dry accounts in history books of the bombings of Paris, and the terror that brought; I had never read of life in the country, where Nazi officers demanded food & board from ordinary citizens, and imposed newer stricter laws in the small towns. As the book opens, Isabelle is sent to live with her sister in the country, where life is supposed to be better than in Paris. There folks have enough land and know-how to farm to supplement their ration books, and the Nazis aren't supposed to be as prevalent, and the bombings aren't supposed to happen. However, Isabelle arrives to find quite the different situation: her sister's house abuts a Nazi airfield, and there's a German officer billeting in their house. Refugees from Paris have ransacked and ruined the garden as they passed through, leaving no supplemental food for Vianne and her daughter Sophie. Vianne's husband, along with many, many of the men in her town, is a POW in Germany, so there's no military income coming to them.
About 1/3 of the book through, I texted with the family member who recommended the book. I told her how much I was loving it, and that I didn't know who I admired/wanted to be like more, Isabelle or Vianne! They are both awesome in different ways. Isabelle is on fire for life. She's eighteen years old, and the world is her oyster. Being such a rebel with such passion right at the outbreak of a war... of course she joins the underground resistance movement! She's so strong and brave in her actions, doing things that I would never dream possible. I did, however, cringe just a little at a few of her impetuous actions. Then there's Vianne, who is supposed to be the responsible older sister. She's been married and a mother since she was sixteen years old. She keeps a house and teaches school. She is just as strong and brave, just in another way. She continues to go to work and teach-shepherd-a group of scared young children who are all missing their fathers, and are hungry and cold. She continues to stay strong and positive for Sophie, even after learning that her husband was a POW in Germany. She supports her best friend and neighbor, even when the neighbors have to start wearing gold stars on their clothes. I have trouble remembering many faults with the character of Vianne.
Oh, I should also mention the method in which the tale is told. The book is framed as a story, a remembrance, being recounted by a very old woman near the end of her life. She is about to move into a nursing home when she receives an invitation to come to Paris for a special banquet. She decides impulsively to go. There are only a few short chapters throughout the book set in 1995, just enough to get to know this older woman slightly. It isn't until the end of the book that we learn who she is!
Speaking of the end of the book... you won't see it coming! It's not what you expect at all, but it's not unbelievable either. It's amazing how all the parts fall together at the end. I listened to this on CD, and I literally had to just sit in my car this evening and let the final CD play out; I had to know how it ended!
The audiobook was fantastic, by the way. The narrator had such a comfortable tone and cadence. If the story wasn't so gripping, the narrator could have read me the phone book to fall asleep to. I didn't have any difficulty understanding them at any time, and never had to fiddle with the volume. She did a great American accent for the 1995 parts, and a lovely slight French accent for the bits set in France. Even with the accent--not hard to understand! Yay. Another plus of listening to this book? This (ignorant) American didn't have to try to figure out pronunciation of French places and names while reading. :)
I give The Nightingale two incredibly positive thumbs up, and highly recommend.
PS I don't typically like to see "trigger warnings" on book reviews, but there is one scene in The Nightingale that could be a bit sensitive for women who have experienced very personal types of assaults.
*I checked out my copy of The Nightingale from my local library.