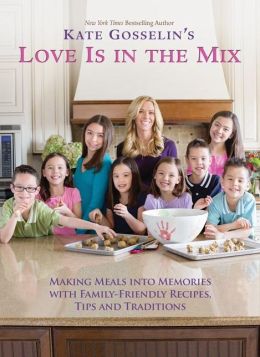 (Doesn't she have an adorable family? Cutie-patooties, all of 'em.)
Kate Gosselin's Love is in the Mix: Making Meals Into Memories with Family-Friendly Recipes, Tips, and Traditions by Kate Gosselin
My reaction to this cookbook was "meh" leaning toward "ok." But I'm afraid I might be letting preconceptions mess with my final feelings. :/ I try not to let that happen, but let's be honest: it can happen to the best of us. My preconception was that the meals in this cookbook would be super easy, and/or have lots of dishes that could be prepped the night before. The woman has EIGHT KIDS. You know she can't be spending tons of time in the kitchen! But apparently she does. I tried one of her "family favorites" and was in the kitchen for an hour. That's not terrible, but it's not great either. I tried the Creamy "Herbie" Chicken. Don't get me wrong: it was definitely delicious! And the recipe made enough to feed us for two nights, which I always appreciate. So I guess a little extra time in the kitchen one night isn't too bad if I don't have to cook at all the next night.
Another perk plus to this particular cookbook is that Kate Gosselin went beyond the food prep to the food traditions in her family. She wrote a nice intro to each recipe, and also had a chapter at the end of the book about different food-focused traditions. For instance, she writes about doing indoor and outdoor picnics at home with her kids for a fun lunch. My mom did that too! Nothing brightens a rainy summer day like having an indoor picnic. And another little "tradition" that I filed away was doing a special treat during family movie night. She has little reusable buckets that look like popcorn bags. You know, with the red & white stripes? I bet you could find something similar at Target. Anyway, when she fills them with popcorn she first puts a little sweet treat, like a few Twizzlers or gummy worms, at the bottom. What a fun little surprise! I'm totally doing that if I have the nieces or nephews for an evening.
So overall, not a bad book. Just not what I was expecting, and that threw me for a loop. I plan to try one or two more recipes, then back to the library it goes...