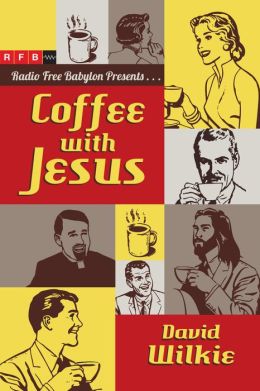 I had read only a few Coffee With Jesus strips before I got hold of this book through my library, and I hadn't really gotten into them. I absolutely loved the book, though! It had me laughing out loud.
Coffee With Jesus is a comic strip that started online, and I'd first encountered it when friends re-posted strips to Facebook. You can see Coffee With Jesus strips here: http://radiofreebabylon.com/Comics/CoffeeWithJesus.php. David J. Wilkie took clip art from ads from the 1960s and 1970s and gave them names and coffee time with Jesus (who is Himself clip art from old Sunday School print materials). The characters always have very "real" observations on life or questions about faith for Jesus, and Jesus always answers them in "real," modern language.
One thing the book did was give me background. The book opens with just a couple pages that give the backstory to the creation of the comic strip, and an explanation that this comic isn't meant to poke fun at Christians but to allow Christians to see Jesus as approachable. What would you ask Christ if you had a daily coffee time with Him? Coffee With Jesus had me laughing out loud, but I felt like I was laughing with other Christians and not at other Christians. Very well done!
And here's a strip for you!