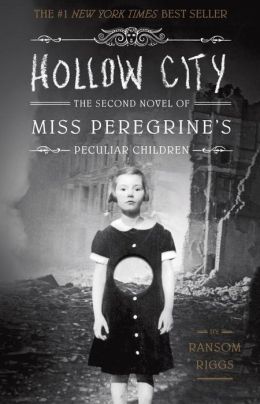 (These books have great covers! Sorta creepy; very cool.)
I loved loved loved Hollow City! But I knew that I would; I loved Miss Peregrine's Home for Peculiar Children too.
In Hollow City the peculiar children and Jacob head off Cairnholm Island and head to the big city of London. They're in search of a loop, any loop, that still contains a protectorate. The wights and hollows have been going around capturing the birds and peculiars to steal their second souls for their own power and use. Along the way they meet other peculiar children who are also without their birds and they help them out. All of this takes place in 1940 London, which is getting bombed on the regular.
So many things to love about this book! Of course, the pictures. Personally, I felt that the photos in Hollow City were a bit "darker" but they were still really intriguing. And one of the best photos out of both books combined: a dog wearing flight goggles and carrying a pipe in his mouth! I think it's a boxer, and we (N & I) love boxers. A boxer with 'tude? Yes, please!
Then there's the history. I love historical fiction! I know that WWII London is dark and scary and explosive but it's still history and I love it.
They peculiar kids visit another loop where there's fantastical animals! Fun. Who wouldn't want to have a conversation with a talking animal; find out what they're thinking and feeling? Especially an awesome pipe-smoking boxer?
I devoured this book. And good news: there's going to be a third book (and who knows? maybe more!)
I'm not always thrilled with book trailers, but Ransom Riggs does his own and they're fantastic!