Stacking the Shelves is a weekly meme hosted by Team Tynga's Reviews. You can find their blog here: www.tyngasreviews.com. This weekly meme, which Tynga's team posts on Saturdays, is all about sharing the books that you received or purchased over the previous week. Feel free to leave a comment with a link to your own Stack! This post actually covers the last two weeks. I'm really sticking to my guns on the "no more ordering books or requesting books until you get your TBR stack under control!" thing.
New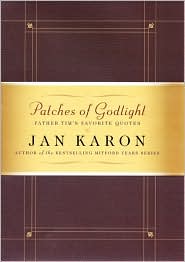 Light From Heaven by Jan Karon-I was absolutely floored when I realized that I didn't own the ninth Mitford book! I texted my hubby, freaking out, and he had absolutely the correct response: he agreed wholeheartedly that it was, in fact, a travesty that I didn't own it. And an emergency. And he then hopped on Amazon and bought me a copy and had it shipped to my doorstep in only two days. The story gets even better (if you can believe it): he whisked me away for those two days to go stay in a cabin in Blowing Rock, NC, which is in fact "Mitford." Truth. Hubby of the Year material there.
Patches of Godlight: Father Tim's Favorite Quotes by Jan Karon-While in Blowing Rock/Mitford, we stopped in the local library and checked out their book sale and I found a new-to-me Mitford book! Of course I bought it. And immediately started reading it while walking down the street, which prob embarrassed the excellent hubby. :)
Library
(Who doesn't love free books? Go use your local library!)
City of Glass by Cassandra Clare-on CD for the commute.
100 Places You Will Never Visit: The World's Most Secret Locations by Daniel Smith-This looks intriguing, and I thought my mom might like it too so I emailed her. Her first question: "how did they get pictures of these places that you're not allowed to visit?" Good question, Mom. Really. Just how did they get the pictures? I'll see if they explain that in the book.