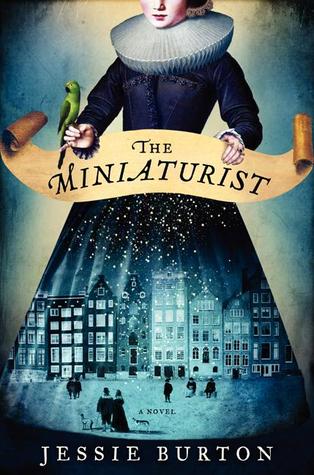 (I was drawn to this book by it's pretty cover. It'll count on my PopSugar Reading Challenge as "a book based on it's cover." That's good, because I didn't end up liking the book.)
The Miniaturist is a historical novel, set in 1686 Holland. The main character is Petronella (Nella) Brandt, a very young, very new wife to the very rich Johannes Brandt. There's a chart at the back of the book that explains that an average Dutchman made about 400 guilders/year, and someone at Johannes' standing would have made about 300,000 guilders. So Nella is supposed to count herself quite fortunate to have been brought into this marriage.
However, she seems to find it a bit difficult to get acclimated to her new life. Her new husband is distant; her spinster sister-in-law lives with them and runs the household; Johannes' two servants are definitely oddballs. As a wedding gift, Johannes gives Nella a special cabinet. It's a miniature of their house, and he gives her blank checks to go shopping for miniature furniture and whatnot for it. (I thought this was pretty weird, but the author's note at the front explains that it was not unusual for young adult women of the time to have what is essentially doll houses.)
Enter the miniaturist. Nella finds the miniaturist in a sort of phone book and writes a letter requesting certain pieces for her cabinet. She receives the requested pieces... and more. With the advent of correspondence between Nella and the miniaturist, a whole world of mystery surrounding the Brandt household residents begins to unravel. The question: is Nella's life better or worse after finding out the truths that Johannes, Marin (the sister-in-law), and the servants are hiding?
The summation sounds the book sound intriguing, doesn't it? Unfortunately, I didn't find that to be the case. I thought the book really just plodded along for the first half. It's one of very few books that I've actually considered DNFing. Then, the very thin veil protecting Nella from the truth begins to tear. All of a sudden we readers are given secret after secret after secret. So the pacing was a bit off. And no spoilers, but I will tell you that the ending felt a little convenient. The language/grammar felt a little clunky at times, too, but that might just be because I'm an American reading a book written by a Brit.
Another reason this book lost ratings stars from me was my inability to connect emotionally to Nella. The whole book is from her point of view, but even at the end of the book she still felt very hollow and 2D. She's one of those characters that things happen to, not a character who does.
The final reason that the book loses stars from me would by spoiler-y to share. It has to do with the miniaturist. So if you haven't read the book, maybe don't read the comments? And if you have read the book and want to chit chat about the miniaturist, leave me a comment.
I had really high hopes for this book. I paid actual money for it. (I'm mostly a library user, and only purchase a small handful of books each year.) My dreams were shattered.
*I own my copy of The Miniaturist.