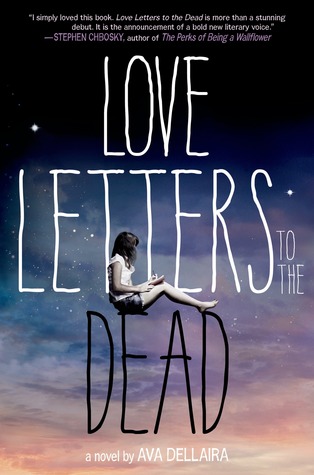 Aaaaaaaaaangsttttttt...... sooooo much.... angst... Seriously. This book was downright depressing. I feel like it made me cranky to read it.
The whole book is a series of letters that the main character, Laurel, writes to dead rock stars and actors, like Kurt Cobain and Heath Ledger. In the letters, she tells the dead folks about her day to day life. The thing is, she's been through some stuff. Now I'm not griping that she's angsty about legit sad things. I would totally sympathize with her losing her sister and her parents divorcing, but Laurel goes out of her way to make some pretty bad decisions and to exclude the adults in her life that might actually help her.
Then all of Laurel's friends (all the secondary characters) are also troubled. Like, deeply. What are the odds of not one, not two, but SIX teenagers all becoming good friends who ALL have major life problems to overcome? The author hits every single after school special topic: drugs, alcohol, parental divorce, death in the family, familial abuse, partying, rape, and homosexuality. All in one book!
The main plot point of the book is Laurel and her deceased sister, and the mystery of why and how she died. This is very, very slowly revealed through the series of letters. Have you read Vanishing Girls by Lauren Oliver? Quite similar concept, but I think Oliver did it better. (And she did it first.)
My final gripe? The book wraps up. That really long list of problems that the teens have? They all get resolved! It's not overly cleanly wrapped up, so that's not a spoiler. You might not see the ending coming, as parts of it are a bit unexpected, but just the fact that it all wraps up lost it reality points in my book.
I would only recommend this book to more mature teens, and would maybe try to hand out Prozac and/or chocolate with it.
*I received an advanced copy of Love Letters to the Dead from the publisher in exchange for my fair and honest review. Thank you!