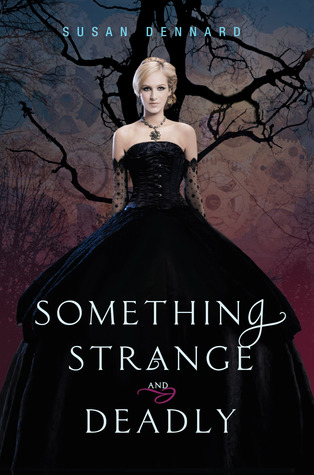 Yesterday I posted a review of Strange and Ever After to Tynga's Reviews, and in the interest of thoroughness I'm now posting reviews of the first two books in the trilogy, Something Strange and Deadly and A Darkness Strange and Lovely. I originally read Something Strange and Deadly in October 2013, gave it 4 of 5 stars, and here is what I wrote:
This book was fantastic!!! I almost never pick up books involving the undead, but I am so glad I picked up this one. I started the sequel immediately; didn't even pause to write this review right off!
Before I even started the book I was totally in love with the cover. I read the hardcover & the cover is swoon-worthy.
The book itself: Eleanor has just come of age. Her family's wealth is gone, following the death of her father six years prior. Her older brother has mysteriously disappeared after a trip to Egypt. Her mother is trying very hard to keep up the high society facade, and to marry Eleanor off to a wealthy bachelor. While all of these things are playing in Eleanor's personal household, Philadelphia is playing host to the first World's Fair (1876) and is under a plague of corpses rising from the grave, hungry for living flesh.
Something Strange & Deadly is full of action and intrigue. I loved loved loved how spunky Eleanor was! She will stop at nothing to find her brother & bring him back. The only reason this book didn't get five stars is that I feel there could have been a bit more background/explanation to some plot points. For instance: no one seems to think it abnormal that thousands of corpses are reanimating. Also, it was really really hard to get a feel on some of the interesting secondary characters such as Daniel, Joseph, and Jie. I'm hoping the second book in the series goes a little deeper. But overall the book is just superb & I can't wait to read the rest of the trilogy.
A word to the wise: Susan Dennard pulls no punches! There's one or two really graphic undead attacks, so this book isn't for the faint at heart. And don't expect any "happily ever after." No character is "safe" from the undead. (Can't say anything more without giving the review a spoiler alert!)
*I checked out my copy of Something Strange and Deadly from my local library.