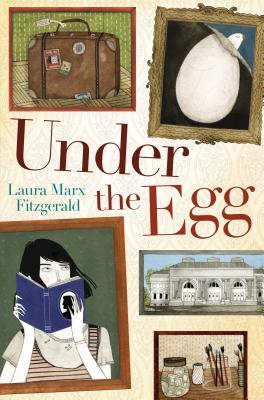 What a fun book! The back-of-book blurb compared it to "From the Mixed-Up Files of Mrs. Basil E. Frankweiler meets Chasing Vermeer" and it's so true! I think I read From the Mixed-Up Files of Mrs. Basil E. Frankweiler about a dozen times as a kid- I so wanted to get myself locked in a museum overnight! Revisiting it in a similar story was super enjoyable.
So Under the Egg is the story of Theodora Tenpenny, a young teen who lives with her mom in an old family home. Her grandfather, an artist and security guard at the Met, lived with them too, until he passed away. Then one day Theodora knocks over a bottle of rubbing alcohol onto one of her grandfather's paintings and finds another, older painting underneath. Next thing you know, she's investigating whether or not her grandfather had a Rembrandt hidden in plain sight!
So much to love about this book! There's the main character, Theodora, who is awesomely spunky and unique. She's not perfect- she's real. I would love to be her best friend. She's enthusiastic and caring, but doesn't deny that life gets hard sometimes. Then there's her family. They're also far from perfect, but you can really tell that they care a lot about each other. The relationship between Theodora and her grandfather is especially sweet. I also love the mystery aspect. Like a modern-day Nancy Drew! And this is a small detail, but Theodora totally uses the library for her research. I do love when my own profession is included in a book. ;)
I highly recommend this book! Yes, it's shelved in the J section of the library- I still totally enjoyed it and I feel like you would, too.
*I received an advanced readers' copy of Under the Egg from the publisher in exchange for my fair and honest review. Thank you!