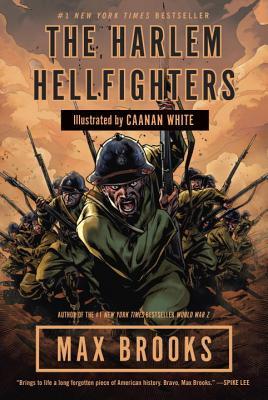 *I know I usually do a Top Ten list on Tuesdays, but I just couldn't make a list on this week's topic: Top Ten Favorite Non-Book Websites. I might be the nation's biggest dork, but I mostly stick to bookish websites and Pinterest. So it would've been a list of one. Enjoy this book review instead!*
Y'all, this was such a FANTASTIC book! I didn't expect to like it so much, looking at the cover. First, graphic novels are kind of hit or miss with me; second, the guys on the cover look so very angry.
Turns out The Harlem Hellfighters is based on the very true story of the 369th regiment- the first all-black regiment to fight in WWI. And I love history stuff! The book didn't shy away from showing horrific battles and trench conditions in France, but balanced it with scenes and background of black life in America at the time. I could see this being a great resource in history classrooms in high schools. The art is black-and-white pen and very clear. The dialogue is very "real," including giving the characters some slang. The history is all accurate; the only thing fictionalized is the exact dialogue between characters. Very appealing!
*I received an advanced copy of The Harlem Hellfighters from the publisher in exchange for my fair and honest review. Thank you!