Top Ten Tuesday is a fun meme hosted by
The Broke and the Bookish
. For more information, or to join the fun yourself, check out their blog!
Top Ten Books I Feel Differently About After Time has Passed
1. Books by the Sedaris family (such as I Like You by Amy Sedaris and Holidays on Ice by David Sedaris). I gave them consistent 4 and 5 (out of 5) star ratings, but my tastes in humor have changed quite a bit. I think I even weeded the Sedaris books that I owned out of my collection.
2. America (The Book) by Jon Stewart. I found this hilarious back in college; now I find it misinformative.
3. Gaps in Stone Walls by John Neufeld. I only gave this one 2 of 5 stars, but now I think it deserves more. Very cool how the author works in a little-known fact about deafness on Martha's Vineyard, and how he writes dialogue to indicate whether a character is speaking aloud or signing.
4. And Then There Were None by Agatha Christie. I only gave it 3 of 5 stars on Goodreads, but it's undeniably a classic. And I read it twice! If it was so bad, why would I reread it?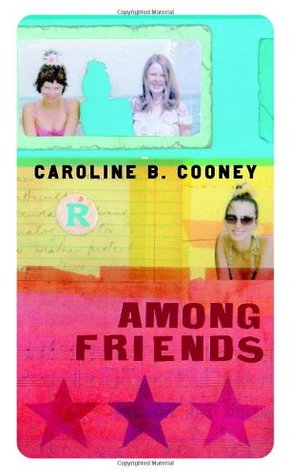 5. Among Friends by Caroline B. Cooney. For whatever reason, I only gave this one 2 of 5 stars on Goodreads. Maybe I was feeling pretentious that day? I think I read this one three or more times throughout my teen years! Big Caroline B. Cooney fan.
6. Burning Rainbow Farm by Dean Kuipers. I'm seeing a trend here... my political ideologies were much different in college, and I thought this was a good rally point book. A few years ago I weeded this one from my personal collection.
7. Search for Paradise by Vance Ferrell. I gave this one 4 of 5 stars as a fiction book... then found out that it's actually religious propaganda. Can't say the propaganda was all that effective if I didn't even recognize it as that.
8. The Kite Runner by Khaled Hosseini. This one perplexed me- I was scanning through my "Read" shelf on Goodreads for this list and saw that I'd only given this one 1 of 5 stars and I can't for the life of me remember why. I know it's practically a classic and makes all the recommended reading lists, so now I feel like I want to give it another try.
9. Into the Wild by Jon Krakauer. I only gave this one 2 of 5 stars, but I loved the movie enough to buy the soundtrack! I usually like books more than movies, so perhaps I need to give this one another try as well.
10. A Million Little Pieces by John Frey. Deception! I gave this one 4 of 5 stars when I thought it was a memoir. Found out years later that it's mostly fiction. Boo!
And those are just the first ten books that I came upon on my Goodreads "Read" shelf that I'd change my mind on. There's probably more, but that'll do for now. And you? What books have you had a change of heart about? I enjoy visiting others' top tens, so please leave a link in the comments and I'll be sure to stop by!