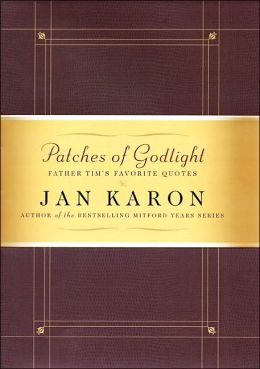 (This is the book jacket; when I removed it, the book itself is faux leather, the same brown as you see behind the yellow band, and simply says "Father Timothy A. Kavanagh" in gold in the middle. It feels very Father Tim-ish to me.)
Patches of Godlight is a sweet little surplus to the Mitford books, published in between the sixth and seventh books. It appears to be handwritten by Father Tim himself, with extra little notes, and a few taped-in typewritten pages. It was just a little harder to read the cursive, but that made it easier to believe that I could be reading Father Tim's quote notebook. I also love Jan Karon's attention to detail; all the typewritten pages have a double "ii" from where his typewriter key sticks. (This is mentioned in a couple of places in the Mitford books.) It's also neat to see Father Tim's notes to himself to "send to Stuart" or "tell Morris L." These are mentions of characters from Mitford books.
At first glance, the quotes seem thrown together very randomly, as though Father Tim had collected them haphazardly as he read various books or went about his daily life. On closer inspection, the reader sees that Jan Karon has loosely grouped them by subject. The reader will find a handful of quotes about love all together, then quotes pertaining to reading. Christ and the Christian life runs all throughout.
I Post-It flagged so many quotes as I read! I'll share a few of my personal faves below. I kept reading quotes aloud to the hubby too! I hadn't heard of this little book before, and neither had my mom (a fellow lover of all things Mitford), so I plan to lend it to her. Share the joy. Guess what? I bought the book at the library book sale in "Mitford" (Blowing Rock, NC)! Love it. 5 of 5 stars.
Here are a few of my personal fave quotes from the book. This isn't meant to be a definitive overview of the book's contents; you may find that other quotes speak to you more.
"Faith is the substance of things hoped for, the evidence of things not seen." ~Hebrews 11:1
"Where is human nature so weak as in the bookstore?" ~Henry Ward Beecher, 1813-1887 -with note from Father Tim: "Where, indeed?!!!"
"I hope I shall always possess firmness and virtue enough to maintain what I consider the most enviable of all titles, the character of an honest man." ~Geo Washington, 1732-1799
"Genius is seldom recognized for what it is: a great capacity for hard work." ~Henry Ford, 1863-1947
"You cannot do a kindness too soon, for you never know how soon it will be too late." ~Emerson -with note from Father Tim: "Mark This!"
"This habit of reading, I make bold to tell you, is your pass to the greatest, the purest, and the most perfect pleasure that God has prepared for His creatures. It lasts when all other recreations are gone. It will last until your death. It will make your hours pleasant to you as long as you live." ~Anthony Trollope, 1815-1882
"It is a good plan to have a book with you in all places and at all times. If you are presently without, hurry without delay to the nearest shop and buy one of mine." ~O. Wendell Holmes, 1809-1894
*I own my copy of Patches of Godlight.