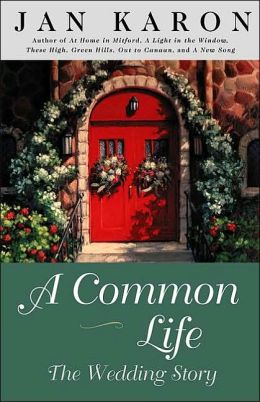 A Common Life is a lovely little book that was published after A New Song, but chronologically takes place in between A Light in the Window and These High, Green Hills. This kind of drives me a little nuts, but I love this little novella enough to make up for the wrinkle in time.
Yup; novella. This book is short! I read it in one day. It opens with Father Tim watching the sunset and reflecting on how much he cares for Cynthia, and how he wants to make sure he never loses her. He runs down the hill with Barnabas, straight in his back door, and straight down on one knee to propose to Cynthia. She of course says yes!
A Common Life is told from tons of different points of view! I loved getting to know the thoughts of many of the Mitford villagers. There's the usual suspects, like Louella and Miss Sadie and Dooley, plus Hessie Mayhew and Esther Bolick. I had forgotten the small detail that Esther puts calla lilies on the orange marmalade wedding cake she makes. I ended up using calla lilies for everything at my wedding; I wonder if I was subconsciously influenced by Father Tim's wedding!
Of course the wedding is lovely and perfect, and the book ends with Father Tim and Cynthia on a very rustic honeymoon in Maine.
Do I even need to say it? Five of five stars! Up next: In This Mountain. It's still July as I write this review, and I only have 3 more Mitford books to re-read. I'm going to make it! But guess what? I was horrified to realize this morning that I don't own nor have I ever read Book 9! *gasp* I sent hubby an impassioned emergency text and he responded totally appropriately, by agreeing that that was quite an oversight on my part and of course it's imperative that I own the book and that he'd already ordered it on Amazon and I'd have it no later than Monday as he selected rush shipping. Ladies, I may have the world's best hubby.