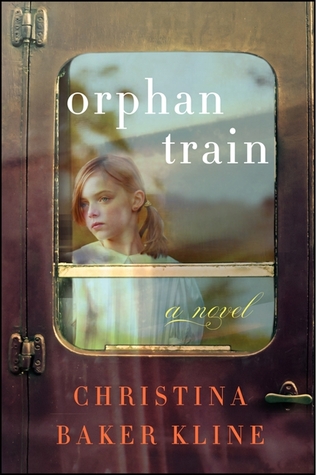 WOWSA. What a fantastic book! This one came to my attention through a double recommendation: within days of each other, both my mom and my sister-in-love told me how fantastic it was, and suggested that I add it to my to-read list. So of course I upped the ante and immediately put a request in at the library in order to read it asap! I'm so glad that I did. Guess what? I was actually, literally, a little late to work one day because I just had to finish it. No way could I walk away on the last couple chapters. It's not a tense book, but I just had to find out what happened with the two main characters!
Orphan Train is the story of Molly, who is on the cusp of becoming an adult. She's been in the foster care system for years, and has been shuttled around quite a bit. She's spending time with an elderly woman, helping organize and clean out her attic, as a means to avoid being sent to juvenile prison. Orphan Train is also the story of Niamh/Dorothy/Vivian, who was orphaned in the late 1920s and sent west from NYC to Minnesota on an orphan train. I list three names for this character, because she was born Niamh, then had her name changed to Dorothy at age 9 when she was first taken in by a family, and then had her name changed once again at 11 when she was adopted into her forever family. The chapters loosely alternate between Molly in 2011 and Vivian in 1928-1930. It was really interesting how smooth the transitions were between the two narratives. I barely noticed that only months were passing in Molly's narrative, vs. years passing in Vivian's. There were so many parallels! The entire novel flowed so well. It probably helped that the book didn't hold to a rigid "Molly chapter, Vivian chapter. Molly chapter, Vivian chapter." As needed, Christina Baker Kline would linger in Vivian's childhood for multiple chapters, then go back to Molly's for a brief time. A lot of time in multiple-narrator books, I'll find myself enjoying one viewpoint over another, but I can honestly say that I liked Molly and Vivian equally in this one.
Christina Baker Kline also gets major props for history! At the end of my edition, there was an extra bit where the author tells of what originally piqued her interest in the orphan trains, and all the research that she did for the writing of Orphan Train. I definitely respect that. And after it was all said and done, I was left wondering how I'd never heard of this phenomenon! I mean, I supposedly have a BS in American History, and I'd never heard of the orphan trains, but there were hundreds of children affected. While this is a work of fiction, it is also a conglomeration of hundreds of voices.
I give Orphan Train six of five stars, and I've added all of Christina Baker Kline's other novels to my ever-growing TBR list. You should check it out!
*I checked out my copy of Orphan Train from my local library.