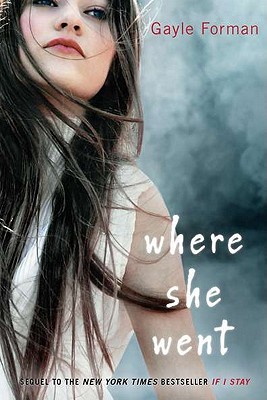 (This cover isn't terrible, and it matches the title. But it doesn't really do justice to the plot. I saw that there's another edition out there with both Adam and Mia (or representations of them, since they are fictional) and I think that is much better suited to the plot. Just my two cents.)
Let me open by saying that I really, really enjoyed Where She Went. However, I'm not blind to it's faults. I think that big fans of If I Stay might enjoy it; I also think that lukewarm fans of the first book, and those who haven't read it at all, would definitely not get into it.
Where She Went picks up about three years after the accident, and is from Adam's point of view. Mia is finishing up Julliard, and Shooting Star (Adam's band, in case you forgot) is HUGE. Like, international concert tours in stadiums huge. By chance, they end up running into each other in NYC one night. They haven't spoken in over two years, and this is their second chance at a better goodbye.
Confession: I was writing quite the negative review in my head as I listened to the first third of the book. I'm so glad I stuck with it to the end, though! It definitely takes a turn to the better a little way in. So the entire book is from Adam's point of view, and he's a hot mess. He's struggling big time with the fame. Drinking, starting in the morning. Smoking cigarettes. Popping anti-anxiety pills every hour. Gayle Forman makes it very clear that this is a man on the edge. But you know what? I didn't hate him. Not even a little bit. Yes, he's a bit self-destructive, but he's in so much emotional pain. He helped carry Mia through intense rehab and recovery, and now he's left on his own. I just wanted to jump into the novel and be his friend and try to cheer him up!
Personally, I think the book really took off when Mia convinces Adam to join her on a "farewell tour" of NYC. She's about to embark on a concert tour herself, and she wants to visit all her favorite NYC places one last time. I love books like this! Just like the first book, the entire plot takes place over less than 24 hours, but has flashbacks interspersed to flesh out the characters. Before reading Where She Went, I didn't really have NYC in my top ten to-visit list, but I would totally go visit if Mia were my tour guide!
I love that Mia is still Mia, even after all she went through in If I Stay. She's not naive, but she does have a pure, almost childlike voie de vivre. She and Adam have a few tough conversations over the course of the night, and I swear I felt myself empathizing with her. I empathized with a fictional character. That how good Gayle Forman is.
And to wrap it up, I'll let you know that I give two thumbs up to the narration on the audiobook. The reader, Dan Bittner, has a very clear voice, with tons of feeling in it. He conveys Adam's emotions so well! And he did it all without any crazy jumps or dips in volume. You know I love when I don't have to fiddle with volume controls while listening to an audiobook.
*I checked out my copy of Where She Went from my local library.